Technology Innovation is not something that you easily associate with India. However oases of innovation in a parched land for want of technology innovation have sprung up at various corners in the country. And innovating as they are, they are also ensuring that the concepts emerging are India-centric and aimed at pulling together all sections of the Indian society to forge ahead into a future where information is power.

I list below a collection of such innovations that are stirring up a silent revolution in their own right across the land.
Translating English to Indian languages
Today, Internet is a storehouse of information that people from various walks yearn for. However the majority of information is in English, a language that a mere 1 billion people among the globe's 6 billion speak. Here arises the importance of a translator that re-moulds the information in a language native to the information seeker.
It is in this direction that projects and tools like Shakti, AnglaBharti, AnuSaaraka, MaTra, Mantra and Anuvaadak are progressing. Brain childs of eminent educational bodies in India like IIT(Indian Institute of Technology), C-DAC(Centre for Development of Advanced Computing), University of Hyderabad, Jawaharlal Nehru University in collaboration with software companies like IBM and Super Infosoft, these projects are touted as the best Machine Translation Projects anywhere in the world.
The basic foundation underlying the projects is the same. Anglabharti, for example, analyses English only once and creates an intermediate structure that is almost non-ambiguous. The intermediate structure is then converted to an Indian language through a process of text-generation.
The effort in analyzing the English sentences is about 70% and the text-generation accounts for the rest of the 30%. Thus only with an additional 30% effort, a new English to Indian language translator can be built.
Showcasing of these technologies has started in various selected villages across the country where villagers are encouraged to start using these translators.
Integrated Digital Center for Schools - K-yan Tutor
Catch 'em Young is our President Abdul Kalam's mantra when it comes to nurturing the kids of the country who will be tomorrow's future. This innovation is one such that is sure to receive his accolades in its attempt to reach out to the millions of school going kids in India. Kirti Trivedi, a professor from IIT, Mumbai who was part of the team that conceptualized this computer based tutor calls it a "Compact Media Center", for schools without enough computer equipment.
Packing together a 120 GB Hard Disk, a Pentium 4 processor, a modem, a hard disk, a DVD drive, four USB ports to connect external devices and a television tuner, it is a television and a personal computer rolled into one, but it does not have a monitor. Instead, the black box contains a projector with SVGA resolution that can beam a 300-inch-high image sharply on a wall. This is its USP ( Unique Selling Proposition) too.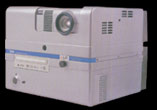 The immense projection capability of the K-yan can help introduce the power of computing to a large group of kids at one go. Kids can take turns to use the mouse and learn interactivity with the computer while other kids are not deprived of the chance to keep observing.
K-yan can also be used for community learning
1. Adult and Primary Literacy
2. Vocational Education and Training
3. Enterprise Skill Development
4. Computer and Internet literacy
5. Communication medium
6. Entertainment – Television and Movies
7. Technology aided school education
8. Spread awareness about health issues like AIDS, Birth control, etc.
9. Women's empowerment programs
10. e-Governance
Indeed a boon to rural India and a unique effort to bridge the digital divide between Rural and Urban India. Evident enough when other developing countries like Malaysia and Kazhakstan have evinced interest in the product.